The Gramitherm® process extracts from raw grass cellulose fibres (used to produce Gramitherm®) and « juices » supplied to biogas units as energy booster.
The Gramitherm® process secures a full utilisation of all grass components, and generates high efficiency and added value to the raw material.
Our philosophy is to create value for our customers/partners and to moderate our impact on the environment.
The Gramitherm® patented innovation is unique and based on 3 key steps :
The cutting and harvesting of "waste" grass ; 1 acre of land will allow to produce 200 M3 of insulating products !
The grass fibres extraction from the raw material ; valorization of the « juice » ; drying and opening fibres
And finally the semi-rigid boards production (AIR-LAY process, thermobonding oven).
Gramitherm® Insulating solutions
Technical Specifications
Positive contribution to the Environment
Technical documents
Gramitherm® Insulating solutions
Gramitherm® offers excellent protection against cold. Thanks to its high specific heat capacity, it also offers very efficient protection against summer heat. Furthermore, it effectively absorbs sound. Protection against fire and fungi is provided.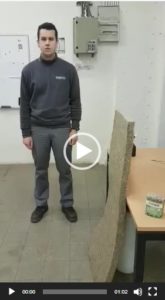 Find all our videos on our YouTube channel!
Gramitherm® is flexible and compressible, ideal for roof application between rafters. It is easy to cut (with a simple cutter) to the requested dimensions on site, and it can be handled fast and easy (it is not itchy).
Gramitherm® is a biobased product made of grass fibers and recycled jute fibers.
To produce Gramitherm®, local resources are integrated into a regional value chain for local markets. 
Technical Specifications
Positive contribution to the Environment
Technical documents